MONSTER BLUETOOTH SPEAKER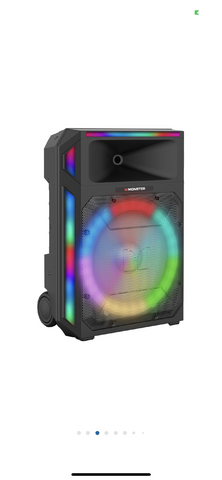 Description
Introducing the Monster Bluetooth Speaker, the ultimate audio companion for music enthusiasts and party-goers alike. This sleek and powerful speaker delivers an immersive sound experience that will elevate your music to new heights.
Featuring advanced Bluetooth technology, this speaker allows you to effortlessly connect your devices wirelessly, giving you the freedom to play your favorite tunes from anywhere in the room. With a range of up to 33 feet, you can keep your device conveniently nearby while enjoying crystal-clear sound quality.
The Monster Bluetooth Speaker is designed to deliver deep, punchy bass and crisp, clear highs, ensuring that every note and beat is heard with precision. Its dual-driver system and passive radiators work together to produce a rich and dynamic soundstage that will bring your music to life.
Not only does this speaker excel in sound performance, but it also boasts a sleek and stylish design that will complement any space. Its compact size and lightweight construction make it easy to take on the go, whether you're heading to a party, the beach, or simply moving from room to room.
Additionally, this speaker features intuitive controls that allow you to easily adjust the volume, skip tracks, and answer calls directly from the speaker itself. The built-in microphone enables hands-free calling, making it convenient for conference calls or catching up with friends and family.
In conclusion, the Monster Bluetooth Speaker is the perfect blend of style, performance, and convenience. Whether you're hosting a party, relaxing at home, or on the move, this speaker will deliver an exceptional audio experience that will impress even the most discerning music lover. Upgrade your sound system today and let the Monster Bluetooth Speaker take your music to the next level.