GIANT KIDS JENGA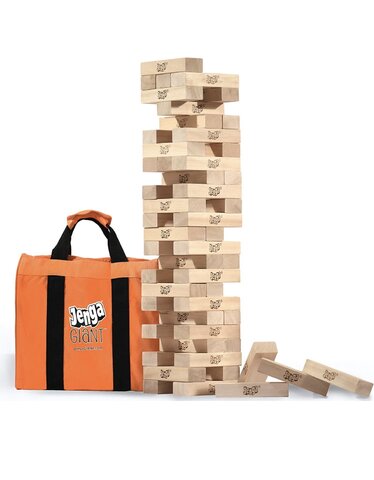 Description
Looking for a fun and exciting game for kids and adults alike? Look no further than the Giant Kids Jenga! This game is perfect for family gatherings, birthday parties, and other special occasions. The Giant Kids Jenga is a larger version of the classic Jenga game, with each block measuring 6 inches by 2 inches by 1 inch. The game includes 54 blocks, providing hours of entertainment for kids and adults. The game is easy to set up and play. Simply stack the blocks in a tower formation, three blocks per layer, and alternate the direction of each layer. Once the tower is built, players take turns removing one block at a time and placing it on top of the tower. The goal is to keep the tower standing while removing as many blocks as possible. The Giant Kids Jenga is made of high-quality wood, ensuring durability and long-lasting enjoyment. It's also lightweight and easy to transport, making it perfect for outdoor events or taking on the go. In addition to being a fun game, the Giant Kids Jenga also helps develop hand-eye coordination, strategic thinking, and problem-solving skills. It's a great way to get kids away from screens and engaged in physical activity. Overall, the Giant Kids Jenga is a must-have for any family or group of friends looking for a fun and challenging game. Order yours today and get ready for hours of entertainment!
Original Giant Jenga Game - For 10+ years, this officially licensed company has created over-sized Jenga brand games - the family favorite, building & balancing, wooden block, stacking and crashing game trusted and loved by kids & adults for generations
Party Friendly Outdoor yard Game - Build & design your own giant wooden tower! At setup, starts at 22 inches high, and can stack to over 4 feet high in play! To win, don't let the tower fall!
Event Game - Fun for families and friends, in your backyard, on the lawn, or by yourself, build Jenga blocks with any party size. Perfect for indoor or outdoor use. It's a game that builds anticipation to a crashing climax!
Includes - 54 Jenga GIANT precision-crafted, premium hardwood blocks (6" x 2" x 1.2") over 8 times the size of classic Jenga game blocks! Get ready for giant builds and giant crashes!
Jumbo Party Game - Fun to play, exciting to watch… now it's a sport! Jenga GIANT is great for giant outdoor games and can liven up family game nights and birthday parties. It's an ideal activity for kids, teens, and adults.