GIANT CONNECT FOUR GAME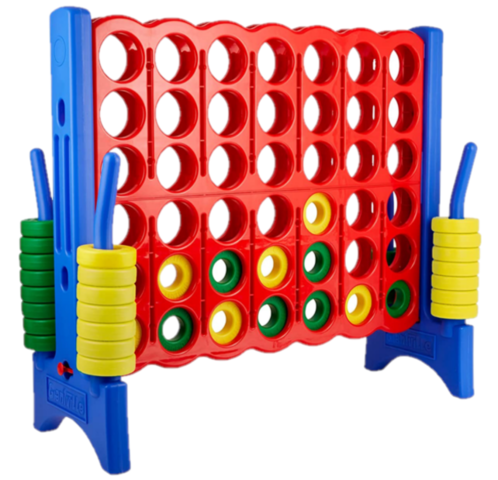 Description
The Giant Connect Four game is a perfect addition to any outdoor event or gathering. This classic game has been super-sized, making it an eye-catching and fun-filled activity. The game is made of high-quality materials, ensuring durability and long-lasting use. The object of the game is to connect four colored disks in a row, either horizontally, vertically, or diagonally. Players take turns dropping their disks into the frame, trying to block their opponent from connecting four. The game requires strategy, skill, and a bit of luck, making it perfect for players of all ages and skill levels. The oversized design of the game makes it easy for players of all ages to participate, and it's perfect for outdoor events, picnics, and parties. In addition to being a fun activity, the Giant Connect Four game is also a great way to promote team building and social interaction. It's perfect for schools, community centers, and corporate events, and it's a great way to bring people together and create lasting memories.
HOURS OF FUN FOR THE WHOLE FAMILY: Nothing beats the timeless classic of connecting four rings in a row with all your friends and family! We take your favorite game and make it larger than life – standing at over 3.5 feet for adults and children of any age to enjoy!

GREAT FOR OUTDOOR AND INDOOR: Our game is perfect for both indoor and outdoor play. Ideal to keep in your backyard for barbecues, by the poolside, celebrate birthdays, playgrounds by school or inside your home, restaurants, community center, anywhere!

STIMULATING STRATEGY FOR KIDS: Grown ups know very well the thrill of 4-in-a-row. It's a great stimulating experience that will develop various problem solving and strategic skills within children that will further enhance various aspects of their everyday thinking.
Check out our other games! Click Here: Backyard Games