150QT IGLOO COOLER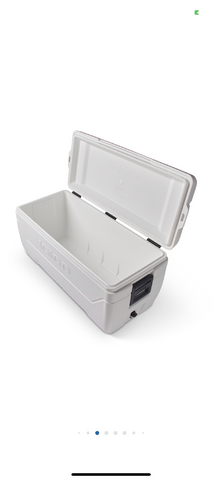 Description
Introducing the 150QT Igloo Cooler, the ultimate solution for all your cooling needs. Whether you're planning a weekend camping trip, hosting a backyard barbecue, or embarking on a long road trip, this cooler is designed to keep your food and beverages chilled and fresh.
With a massive 150-quart capacity, this Igloo Cooler provides ample space to store all your essentials. It can hold up to 248 cans, making it perfect for large gatherings or extended outdoor adventures. Say goodbye to constantly restocking your cooler and hello to uninterrupted fun and relaxation.
Built to withstand the toughest outdoor conditions, this cooler is made from durable materials that can handle rough handling, extreme temperatures, and even bear encounters. The sturdy construction ensures that your items remain intact and protected, no matter where your adventures take you.
The Igloo Cooler features Ultratherm insulation, which provides maximum ice retention for up to 7 days. This means your drinks will stay refreshingly cold, and your food will stay safely chilled, even in scorching temperatures. No more worrying about spoiled food or lukewarm beverages – this cooler has got you covered.
Designed with convenience in mind, this cooler features a reinforced swing-up handle for easy transportation. The dual snap-fit latches securely seal the lid, preventing any leaks or spills during transit. The integrated fish ruler on the lid allows you to measure your catch of the day, adding a practical touch to this versatile cooler.
Not only does the 150QT Igloo Cooler excel in functionality, but it also boasts a sleek and modern design. Its neutral color scheme effortlessly blends into any setting, whether it's a campsite, beach, or backyard. This cooler is not only a practical investment but also a stylish addition to your outdoor gear collection.
In conclusion, the 150QT Igloo Cooler is the ultimate cooling companion for all your outdoor adventures. Its generous capacity, exceptional insulation, and durable construction make it the go-to choice for anyone in need of a reliable and high-performing cooler. Don't settle for anything less – choose the 150QT Igloo Cooler and experience the difference it can make in your next outdoor excursion.